The Signature at Treetops Resort
The Signature at Treetops Resort
Holes: 18
Par: 70
Length: 6653 yards
Slope: 136
Rating: 72.6
---
3962 Wilkinson Rd, Gaylord, Michigan 49735, Otsego County
(866) 348-5249, (989) 732-6711
---
Year built: 1993
Type: Resort
Greens: Bent Grass
Fairways: Bent Grass
Golf Season: Open: 4/21 Closed: 10/16
Rentals/Services
Carts: Yes - included in green fees
Clubs: Yes
Practice/Instruction
Driving range: Yes
Pitching/chipping area: Yes
Putting green: Yes
Teaching pro: Yes
Golf school / academy: Yes - "Rick Smith Golf Academy"
Policies
Metal spikes allowed: No
Dress code: Proper golf attire required.
Credit cards accepted: VISA, MasterCard, Amex Welcomed
| Tee | Par | Length | Rating | Slope |
| --- | --- | --- | --- | --- |
| Black | 70 | 6653 yards | 72.6 | 136 |
| Black/Blue | 70 | 6410 yards | N/A | N/A |
| Blue | 70 | 6285 yards | 71.1 | 133 |
| Blue/White | 70 | 6071 yards | N/A | N/A |
| White | 70 | 5863 yards | 68.9 | 129 |
| White/Gold | 70 | 5588 yards | N/A | N/A |
| Gold | 72 | 5413 yards | 66.8 | 125 |
| Gold (W) | 70 | 5413 yards | 72.2 | 137 |
| Gold/Red (W) | 70 | 5005 yards | N/A | N/A |
| Red (W) | 70 | 4604 yards | 66.9 | 125 |
Formerly known as Smith Signature at Treetops Sylvan Resort
Accolades
Rating Snapshot
Reviewer Photos
Reviews
FEATURED REVIEW
"
So sick. Caught me by surprise. Top 100 Public You Can Play

"
---
---

Played on 07/07/2019
"
So sick. Caught me by surprise. Top 100 Public You Can Play

"

Reviewed on 07/08/2019

If this course was appropriately rated, it would be my 11th top 100 course I've played. So legit. Conditioning is FLAWLESS.

I will say that you don't have to be a bomber and the fairways are most definitely generous but you have to have a good idea of where the stick is on the green. Some of the toughest putting surfaces anywhere. But the course isn't long so you are able to always have a shot. I shot a 78 and I'm a 7.4 handicap. Had 4 birdies hit 6 doubles and 8 3 putts. Once you've seen the greens you'll know why. It's a well manicured Tobacco Road. Just so sick.
---
---
---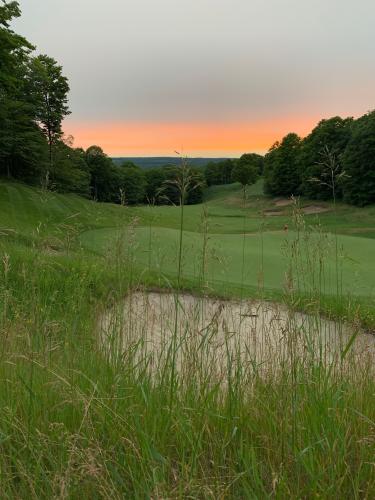 ---
FEATURED REVIEW
"
Treetops Golf Resort in Gaylord Michigan – Some of Northern Michigan's Best Golf.

"
---
---

Played on 09/27/2018
"
Treetops Golf Resort in Gaylord Michigan – Some of Northern Michigan's Best Golf.

"

First time playing

Used cart

Hot weather

Reviewed on 10/14/2018

Treetops Golf Resort is probably the most recognizable golf resort in Northern Michigan. With 81 spectacular holes of golf, over 238 hotel rooms and condos, a spa, salon and over 25,000 sq. ft. of meeting space, it's no wonder Treetops Resort is a popular venue for business conferences, reunions and weddings. In the winter, it's a fantastic ski resort, with 23 expertly groomed ski runs, exciting terrain and 20 kilometers of cross-country skiing and snowshoeing trails. During the summer, it's not all about golf, although there is plenty of it. There are plenty of other family activities include mountain biking, fly fishing, tennis, disc golf and horseback riding.

As a golf resort, Treetops Resort is not without its share of accolades from the golf world. Golf Magazine has awarded it their Silver Medal Award as one of the finest resorts in the United States, 7-times. In 2002, Treetops was ranked #32 in America's Top 75 Golf Resorts by Golf Digest and in June 2000, Conde Nast Traveler recognized them as one of the Top 50 International Resorts. Only Pinehurst and Pebble Beach were ranked higher for Golf Design by Conde Nast that year. Each year, Treetops has been consistently awarded at least 4 stars by Golf Digest Places to Play. Three of the industry's top golf architects – Tom Fazio (Premier), Robert Trent Jones Sr. (Masterpiece) and Rick Smith (Signature, Tradition and Threetops) have all put their names on courses at Treetops.

The Jones Masterpiece Course is the only course located on the main resort property and was the first course built at Treetops. The Masterpiece Course was designed by Robert Trent Jones Sr. and is the most scenic of the group, which is saying something. Many people believe that if there was one course that put Gaylord on the map as a golf destination, this is the one. At 147, Masterpiece has one of the highest slope ratings in all of Michigan, so it's going to require your strict attention, but not so much that you can't take in the beautiful scenery as you make your way around. In fact, it's the scenery that makes the Masterpiece such a hit with the ladies. Ask any woman you see on the course what she remembers most about the course and it will most likely have nothing to do with pin placement or forced carries, it will be about the scenery, specifically the leaves changing color if the question is posed in the fall.

If you keep the ball under control and don't try and bite off more than you can chew, you can score well here, especially on the par 5s. From the White tees, they play anywhere from 435 – 500 yards, so getting there isn't the problem. The problem is keeping the ball in the fairway. Number 6 is a memorable par three that plays 162 yards from the Blue tees, but actually up to 4 clubs less because of the 120 ft. drop and the wind. This is the hole that put golf in Northern Michigan on the map. Practice facilities at the Jones Masterpiece Course include a grass driving range, short game area with practice bunker, and putting green. Regardless of how you play, it's hard to not enjoy your round on the Jones Masterpiece Course.

The other three courses can be found at Treetops North, about a 7-minute drive up the road.

The Signature was the second 18-hole layout built on the resort property. It was also the first golf course design of Rick Smith who then went on to design the Tradition Course and Threetops. All three courses are located at Treetops North. Smith used insight and knowledge from his trips to Scotland and Ireland to help him shape the Signature Course, giving it the feel of some of the world's best courses. The Signature has received several honors, including recognition by Golf Magazine as one of the Midwest's best courses. As with the other courses at Treetops, you'll find rolling hills, sand traps, and elevation changes, both up and down. With all of its magnificent views, The Signature Course may be the most photographed course at the resort. It is the overwhelming favorite of both locals and visitors. At 420 yards from the Blue Tees, Number 13 is one of the most challenging holes on the entire property. It plays uphill making it even longer than the stated yardage. Favor the left side off the tee for the best angle into the green. Take at least on extra club to get there and avoid the two bunkers on the right side.

The Premier Course at Treetops Resort is the only Tom Fazio-designed golf course in the state of Michigan and is as challenging as it is forgiving. When asked which hole on the course was his favorite, Fazio, who was handpicked by Rick Smith to design The Premier Course, replied, "All of them!" The Premier is very "player-friendly" with many wide open rolling fairways, some of which are bowl-shaped, which helps correct errant tee shots. Such is the case on the par 4, 7th hole that plays 333 yards from the Blue tees. The slopes on either side of the fairway funnel the ball back to the middle. Don't let the short length fool you; it will take 1 - 3 extra clubs to get to the green. Make sure you take enough to get there; you don't want to be short. Water rears its ugly head on only one hole – the par 3 11th. Keep it left off the tee and the slope should bring it back to the green. Fives sets of tees offer yardages from 4,945 to 6,832 making the course playable for golfers of all levels.

Threetops: If you're looking to take the kids to a par 3 course where they can learn the game, this isn't that place! Threetops is the former site of the ESPN Par 3 Shootout and has challenged the likes of Nicklaus, Palmer, Mickelson, Couples and Floyd. The 7th hole is where Lee Trevino had his $1,000,000 hole-in-one. Designed by renowned teacher Rick Smith, every hole is unique, and course conditions are the same as any of the championship 18-hole courses on the property. Seven of the nine holes play downhill – some extremely downhill - and water comes into play on one hole, the 6th. From the back tees the holes play between 140 and 219 yards although the latter is straight downhill and plays more in the 155 yard range. Getting on the greens is the easy part; making a one – or in many cases a two – putt can be quite the challenge. Some of the greens are severe, there's a lot of undulation and break that you may not see at first glance. Threetops is a must play if you're on a golf trip to Gaylord, whether you are staying at Treetops or somewhere else. Stop by, relax and enjoy the best that God's Country has to offer. You can get around Threetops in about 90 minutes.

Two other qualities necessary to qualify as a great golf resort are good dining options – preferably with a good assortment of adult beverages – and amicable accommodations. On either point, Treetops does not disappoint. As for dining options, Treetops offers three restaurants, all located within steps of each other: Legends on the Hill, Hunter's Grille and the Sports Bar. Between the three, they offer over 100 craft beers and are committed to introducing guests to Michigan craft beers and wines. The food is outstanding and, in many respects, unique. The Sports Bar serves Poutine, I'm sure to quell the appetites of their Canadian guests. Hunter's Grille offers Irish Nachos, an appetizer that could be easily be considered a meal. Slices of crispy baked potato slices topped with corned beef, white cheddar, mozzarella, Thousand Island dressing and sour cream. Absolutely delicious.

As far as the rooms in the lodge go, I've never stayed in anything as large that wasn't a suite. Rooms are equipped with a refrigerator, microwave and coffeemaker as well as a work area and large flat screen TV. Bathrooms are extra large and feature a large, walk-in shower. Also in the lodge is an indoor pool, hot tubs and a fitness center as well as the Treetops Spa. Bar 81 is located on the main floor and has a number of TVs, making it a perfect spot to relax with your favorite beverage and watch your favorite sports team after a round of golf.
---
---
---
---
FEATURED REVIEW
---
---

Played on 09/07/2017
"
Hotel not worth it

"

Reviewed on 09/10/2017

We stayed at Tree Tops Resort for our anniversary trip away and golfed two rounds of golf. The courses had some nice elevation views and shots. The staff at the 2 courses we played at were very nice. The ranger was really nice and informative about the pace as it was very slow. But that's about the nicest thing I've got to say about this whole place. The hotel rooms were clean but not impressive at all. The door jams on the outside belcony were falling off. The door to out room didn't shut all the way and you could hear everything from the hallways. The beds were not comfortable. The food at the three restaurants that are at the hotel was way overpriced and not good. The only good part of the food was breakfast because we had free vouchers. The waiter at the hunters had no clue about the products he sold and once he gave us one drink we never seen him again and had to go to the bar to get out tab. I could go on and on but I won't. I just know that for me to spend 1000.00 to stay and play I definitely do not feel it was worth that kinda money. Won't be back
---
---
I don't recommend this course
---
FEATURED REVIEW
"
The Avocado of the North

"
---
---

Played on 06/02/2017
"
The Avocado of the North

"

Reviewed on 06/04/2017

Brought 16 gentlemen out to play this track as we had heard great things and I tell you what, we love avocados.

Great layout and in fantastic condition. The fellas and females know what they're doing at the entire TreeTop facility.

Fairly open so let that big boy eat and watch them fly.

Somewhat hard to find on the gps to get to the facility, rectify that please.
---
---
---
FEATURED REVIEW
"
Great course with fantastic views

"
---
---

Played on 07/15/2015
"
Great course with fantastic views

"

First time playing

Played with a group

Used cart

Played 18 holes

Excellent weather

Reviewed on 07/17/2015

Not quite as challenging as Masterpiece at same resort but a really good course. The weather was perfect and pace of play was just under the expected 5 hours. As other courses at Treetops: rolling hills, sand traps, and elevation changes are the name of the game. Fantastic place, great conditions, and makes me wish I lived closer.
---
---
---
FEATURED REVIEW
"
Treetops Resort - Signature

"
---
---

Played on 07/18/2014
"
Treetops Resort - Signature

"

Previously played

Played with a group

Used cart

Played 18 holes

Excellent weather

Reviewed on 08/27/2014

The Good: Extremely unique, interesting layout from longtime instructor Rick Smith is the perhaps the most complete golfing experience at Treetops. Great course conditions from tee through the green. A layout with very limited water but significant elevation changes, winding through woodlands and rolling hills of northern Michigan. Very open off the tee but terrifying around the greens. Some of the most undulating greens you will find. Many strong, difficult Par 4's and risk-reward Par 5's. Very good on-course amenities that include restroom areas and half-way houses. One of the best resort practice areas in the Midwest includes a cool putting course. Strong service and good clubhouse with mini-restaurant. Great value for upstate Michigan resort golf at $100 with cart and range balls.

The Bad: Difficult to nit-pick, but the lack of GPS is a negative. Not as much variation in the Par 4's compared to the Fazio and Masterpiece courses.

The Verdict: The Smith course is arguably the most visually threatening yet enjoyable course at the Treetops resort. Best conditioned of the four 18-hole courses and perhaps the best course in the Gaylord area.

Best Hole: The long, downhill Par 4 3rd is the epitome of the Treetops Resort and Signature course: Huge elevation change from the tee to a large landing area that requires a long-iron/hybrid approach to a demonic two-tiered green.
---
---
---
FEATURED REVIEW
---
---

Played on 8/31/2013
"
Slow Play

"

Reviewed on 09/01/2013

I love this course (Smith). But the experience was ruined by the slow play. There are zero rangers on the course and the staff seemingly doesn't care about you once you tee off. Of course, I expected slower play during Labor Day weekend. However we were headed for a 6 hour round (and darkness) when we finally walked off the course after skipping around to find open holes and playing a makeshift 15 hole course playing multiple holes of over and over again.

I suggest you play any of the other fine golf courses in Gaylord during peak golfing dates.
---
---
FEATURED REVIEW
---
---

Played on 07/27/2013
"
UNBELIEVABLE

"

First time playing

Verified Purchaser

Reviewed on 07/30/2013

We played this course on a cool July evening. The scenery is unbelievable and the holes challenging but fair. They give the impression of being tight but fairways are generous. Greens are difficult with a lot of slopes and were super fast even after a day of rain. It was the end of July but the temp was in the upper 50's to low 60's. We played evening and did not get all the holes in but the ranger took us to the last two so we could finish by the clubhouse.
---
---
---
FEATURED REVIEW
---
---

Played on 07/26/2013
"
Treetops Signature

"

First time playing

Verified Purchaser

Reviewed on 07/29/2013

Played Fazio Premier, Jones Masterpiece and Smith Signature on a recent trip to Treetops. Smith Signature doesn't have the same elevation changes, but I felt it was more player friendly than the other courses. Real nice layout and highly recommended.
---
---
---
FEATURED REVIEW
"
An AMAZING DEAL in the afternoon

"
---
---

Played on 7/22/2013
"
An AMAZING DEAL in the afternoon

"

First time playing

Verified Purchaser

Reviewed on 07/31/2013

We played a later afternoon round for 80 percent off. If was an unbelievable course for the cost. Fairways and greens in great shape. The views are amazing. The pace of play in the afternoon was very fast.
---
---
---
FEATURED REVIEW
"
beautiful course unbeatable deal on golf now

"
---
---

Played on 06/26/2013
"
beautiful course unbeatable deal on golf now

"

First time playing

Verified Purchaser

Reviewed on 06/27/2013

While camping in northern Michigan we were trying to find a fun golf course to play even though treetops was almost an hour from our campsite the deal we got on golf now was irresistible I did not even think I would be able to play such a nice course but the hot deal was better than the local 9 holers the signature course was visually stunning with mountain views stretching for miles most of the resort traffic was done for the day and the course was still in fabulous shape definitely a do over
---
---
---
FEATURED REVIEW
"
very challenging greens

"
---
---

Played on 6/16/2013
"
very challenging greens

"

First time playing

Verified Purchaser

Reviewed on 06/20/2013

Signature: Greens were absolutely blazing fast and have some of the most severe slopes i have ever played. Our 3-some had more than a couple putts end up off of greens.

The rest of the course is reasonably open and it great shape. Its a challenging but fair course that higher handicaps can enjoy too.

$55 on golf now was a bargain for a course of this caliber..
---
---
---
FEATURED REVIEW
"
Tree top views, municipal maintenance.

"
---
---

Played on 6/2/2013
"
Tree top views, municipal maintenance.

"

First time playing

Verified Purchaser

Reviewed on 06/05/2013

This was my first time visiting Treetops, and maybe my expectations coming in to the course was too high, but even with may deeply-discounted round through golfnow I was left extremely disappointed. I played the "Signature" course, which does offer a number of scenic vistas throughout the track which winds through the woods and hills of norther Michigan. However, the major let down was the extreme failure of proper course maintenance. If a course prices itself at $100+ a round I believe it is fair to expect a high-level of overall course conditions. Instead, this is what I found:
-Unevenly mowed tee boxes littered with divots so numerous it was impossible to not be force to stand in one and broken tees everywhere.
-Bunkers that have not seen fresh sand in some time and are not raked daily by staff.
-Fairways with numerous soggy spots due to poor drainage
-Cart paths that were 25% paved, the rest being dirt/gravel or just grass
-Healthy, long rough that presented a challenge but filled with piles of clippings and no clean first cut.
-Greens (the worst part) with dead spots, signs of mold damage, ball marks more plentiful than dimples on a golf ball, and even entire baseball-sized chunks of turf missing from the green.
-Golf carts are gas-powered and showing their age. No sand, tees, or ball washer was provided on them.

To sum things up, the course had the maintenance of a regular municipal course at very best, which significantly devalues the Treetop experience. I've played just about every other resort course in the state, all of which are similarly priced. In the future I will probably stick to those other options like Crystal Mtn, Boyne, and Tullymore which seems to get all the aspects of running a course including the small details beyond just mowing the grass everyday right.
---
---
I don't recommend this course
---
FEATURED REVIEW
"
awesome stay-n-play golf resort

"
---
---

Played on 05/20/2013
"
awesome stay-n-play golf resort

"

Reviewed on 09/06/2013

Played all 4 courses. I've always thought the "signature" was their best course, and now that a $10 surcharge has been added to play this beauty, it was correct. LOTS of elevated tees, with gorgeous views of N.Michigan.
The "premier" would rank 2nd at the resort. Hilly, challenging, and a lot of fun to play.
The "masterpiece" would be 3rd on my list. This course has some of the most spectacular holes you'll ever see #especially holes1-11# , but it is VERY difficult. It's hard to score on.
"Tradition" would be 4th. an easy, flatter course then the others, but it's an oppurtunity to go low scoring wise, which may be needed after the other 3 brutes have beaten you up.
Threetops is a fun Par 3, but expensive
---
---
---
Marketing Tools for Golf Course Operators
Add a Golf Advisor Rating Badge to Your Website. Get Widget
Get a feed with the latest reviews for this course Feed